Raoul Pietersz
Head of Quantitative Analysis, ABN AMRO Bank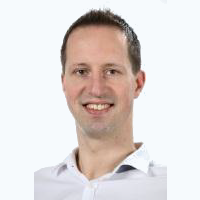 Raoul heads the Quantitative Analysis desk as part of Capital Markets Solutions Trading at ABN AMRO Bank N.V. since 2010.
Prior to 2011, he has been working as a Quantitative Analyst at both Royal Bank Of Scotland (2008-2009) and ABN AMRO Bank N.V. (2001-2008).
Raoul completed a Ph.D. thesis at Erasmus University Rotterdam entitled "Pricing models for Bermudan-style interest rate derivatives". He holds Master degrees from Leiden University (Mathematics, 2001) and Cambridge University (Advanced Studies (in Mathematics), 2000).
Raoul is married with 4 children (2 boys & 2 girls, aged 12, 9, 8 and 2).