Karim Bensaid
Senior Risk Management Specialist at ABN AMRO
ABN AMRO's approach to the 2022 ECB Climate Stress Test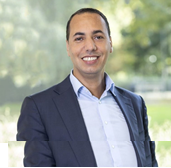 Karim will provide a quick walk-through the 2022 ECB Climate Stress Test exercise and touch upon the key methodological pillars of the CST model. The presentation includes the following topics:
Overview of the Bottom-Up stress test methodology developed by ABN AMRO
Model journey with selected case study
Next steps – Integration of methodology into internal Stress Testing processes
Karim Bensaid is a senior Risk Management Specialist at ABN AMRO. He received his MSc in Econometrics in 2010 at the Vrije Universiteit in Amsterdam. He is an expert in scenario analysis and stress testing. In 2022 he coordinated the Credit Risk part of the ECB Climate Stress Test covering both the impact from Transition Risk and Physical Risk on ABN AMRO's loan book.